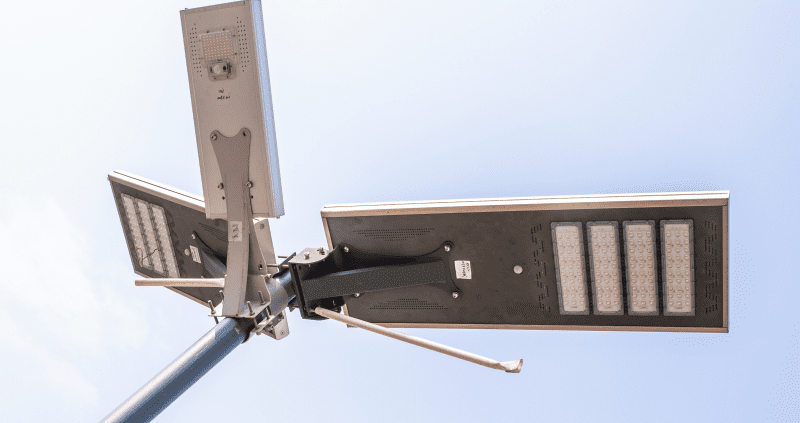 After 10 years' development and practice, LED street lighting technology has become very mature and stable. About five years ago, another new type of solar Powered Street Lights appeared in people's eyes. It is All in One Solar Powered Street Light. This kind of street light does not need to connect to the power grid, does not need electric wires, compact design, simple to install, and easy to maintain. In recent years, more and more people have paid attention to the product, especially in some areas where the power grid is not accessible, or in countries and regions with high electricity costs.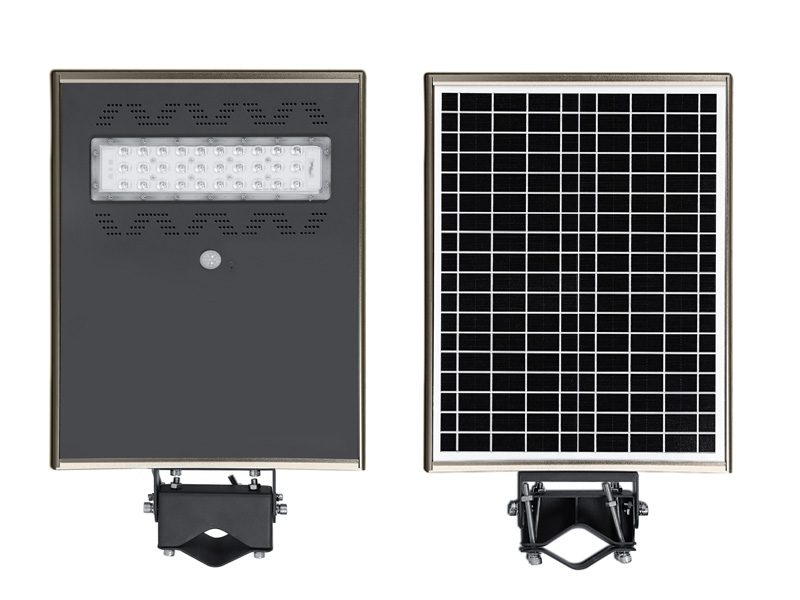 The All in One Solar Powered Street Lights is the third generation solar street lighting product developed from the ordinary solar street lamp. After the development of battery technology and practical installation in recent years, the all in one solar LED street lamp technology has become very stable, so what is the return on investment vs Grid LED Street light?
Suppose a 5KM road with lights on both sides, 30 meters apart, and the lamp power is 40W, the pole 6 meters high.
167 street lamps are installed on each side of the road, a total of 334units.
The load flow of cable of traditional street lamp trunk line in 4 and 5 kilometers road is I=P/U=333*250/220=377A, which requires copper core cable with a cross-section of 90mm². The unit price is 32USD/m2(Including labor cost). The cable cost is 32USD*5000m=160,000.00USD, Each lamp pole needs 12M 1.5 square electric wires, and the cost is 12M*334*0.5=2004USD
Each Grid LED street lamp needs to be equipped with an air switch to prevent short circuits, switch and facilitate maintenance. A total of 334 air switches are required. Then the total cost of the air switch is 2USD*334=668USD
This section of grid LED street light needs one distribution box with an internal time controller, control lights on and off, air switch, over-current & overload protector, watt-hour meter and so on. The total cost of 900USD requests.
The labor cost is 43USD per person per day, based on the cement road. According to our experience, with six workers, the all in one solar street lamp needs about 2 weeks of installation time, 10*6*43USD=2580USD, while grid street lamp needs about 3 weeks because of the connecting electric wires and other reasons, depending on the efficiency of the workers, the cost is not yet including car rental fees.
The following calculation is based on LUXMAN 5-year warranty all in one solar Powered Street Lights. Because of stable quality and LUXMAN will pay any cost of the after-sales problems, so this calculation is not included in the after-sales maintenance cost.
Item
Grid LED Street Light
All in One Solar Powered Street Light
Luminaire cost
USD90.00*334=30,060USD
USD300*334=100,200.00USD
Electricity bill

(5 Years)

40/0.8*12*365/1000=219kwh

219*334*0.15USD/kwh=10971USD

10971*5=54855USD

0
Electric cable cost
5000M*32USD=160,000USD
0
Pole Inner electric cable
334*12*0.5USD=2,004USD
0
Air switch
334*2USD=668USD
0
Distribution box
900USD
0
Labor cost
6*43usd*15days=3,870USD
6*43usd*10days=2580USD
In Total
USD252,375.00
USD102,780.00
※Above prices were quoted by China's market price level.
※All prices vary depending on your circumstances. Your geographic location is the largest determinant,
Conclusion:
Compared with Grid LED street lamps, all in one solar street light can save a 60% cost in 5 years.
Electricity cost and electric cable cost are the two main costs of AC LED street light.
Related article: