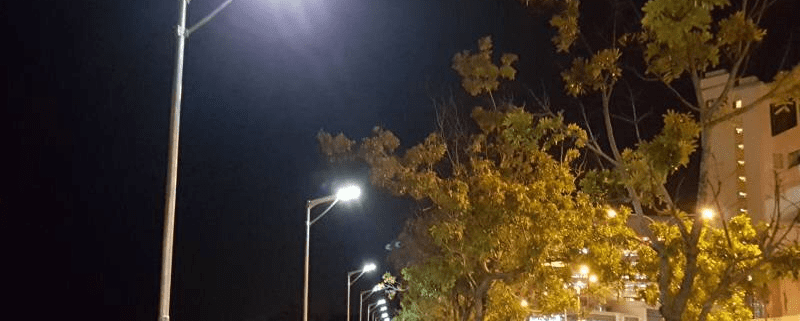 How to Extend the Lifespan of Integrated Solar Street Light
The service life of the integrated solar street light is mainly affected by four factors: solar panel, controller, lamp module and battery pack, and the most important is the service life of lithium battery. The life span of the solar street lamp directly affects the subsequent maintenance cost of customers.
The integrated solar panel is mainly divided into monocrystalline silicon, polycrystalline silicon, and amorphous silicon. The conversion efficiency of monocrystalline silicon solar panel is the highest, the photoelectric conversion efficiency is about 15%, and the highest is 24%. However, the charging effect on rainy days is not as good as polycrystalline silicon, and the production cost is high. As monocrystalline silicon or polycrystalline silicon is generally encapsulated by toughened glass and waterproof resin, it is durable and has a service life of 15 years, up to 25 years. The output power efficiency is 90% after 15 years and 85% after 25 years.
Different brands of LED Chips have a different service life. At present, integrated solar street lamps use LED lamps. The LED lamps have high luminous efficiency and service life of up to 50000 hours. Theoretically, 12 hours a day can be used for 11 years.
For the integrated solar street lamp controller, it is not only necessary to control, monitor and maintain the operation status of photovoltaic modules, lithium batteries and loads but also need to control the lithium batteries to ensure the operation status of lithium batteries.  At the same time, it directly maintains the load of the solar street lamps and provides a useful and relatively stable working environment, especially in critical conditions such as lithium battery power shortage or Undervoltage operation.
Reminder: a high precision, high stability controller plays a very critical role, can effectively extend battery life.
The lithium battery life of Luxman light factory's series of integrated solar street lamps can reach about 6-8 years.
To sum up, the comprehensive service life of integrated solar street lamps is about 8 years, during which there is no maintenance, no electric charge, energy-saving, and environmental protection. Compared with the street lamps with traditional electric lighting, it can save a lot of costs and also contribute to the protection of the environment.
Related article: